CollegeWimbledon
Start dateSeptember 2018
Course length3 years
UCAS codeW453
BA (Hons) Costume for Theatre & Screen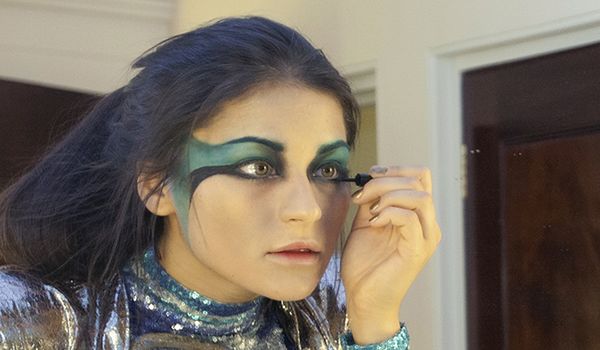 Places available 2018/19
This course has places available for UK and EU applicants only. Applications have now closed for international students.
You can apply for this course via the 'How to apply' section on this page. For a full list of UAL courses open for 2018/19 entry, visit the Clearing page.
BA Costume for Theatre and Screen at Wimbledon College of Arts introduces students to professional costume for theatre, film, television and live performance.
The course offers 2 specialist disciplines; costume design and costume interpretation.
Course detail
Content: what students can expect
To gain an understanding of the essential elements of costume
To work on both studio and performance based live projects such as costume design for historical and contemporary texts and opera, site-specific production, dance, film and theatre
To explore colour and texture through mixed media experimentation for two-dimensional design and textile work, and take a creative approach to problem solving during construction
To be taught by industry professionals, who ensure the development of a realistic working process, that's informed by current practices and debates
To be guided through a broad range of skills and technical areas including; analysing texts and characters, corsetry, developing a visual language, drawing, millinery, pattern cutting, garment construction and fabrication, research skills and textile manipulation
To study historical and social contexts of Western Europe's evolution in costume through independent research, underpinned by a series of lectures
An on-going contextual studies programme that builds our students' knowledge and helps develop their critical understanding of the changing culture of film, television and the arts
To have access to Wimbledon's shared workshops. View the Wimbledon facilities section
The 2 disciplines of Costume Design and Costume Interpretation are very different, but for part of both the first and second years, students work on the same projects.
Costume Design
Costume Design is concerned with visual storytelling.
Students should have an interest in people, history and geography
Students will use a range of sources, including text, images, music, and choreography to analyse and create characters
There is a focus on drawing and communicating ideas in 2D, but 3D construction skills are explored
All projects are for live or recorded performance. Students are encouraged to fully understand these contexts within their concept and development work
See work from the degree show - Costume Design
Costume Interpretation
Costume Interpretation is the process of making costumes from a visual reference and developing skills to a very high level.
It requires imagination, sensitivity, an understanding of context, and excellent interpersonal skills
At Wimbledon we use men's and women's period clothing, cut and construction as a template for understanding the complex challenges of the discipline
You will have the opportunity to learn specialist traditional skills, such as tailoring and millinery
Students may also go on to make contemporary work that utilises techniques such as moulding, casting, textile experimentation, metal and leatherwork
See work from the degree show - Costume Interpretation
Structure
Year 1
Unit 1: Introduction to study in theatre and screen
Unit 2: Designing and making - the principles of practice
Unit 3: Designing and making - extending the skill set

Unit 4: Looking at ideas - debates in the discipline
Unit 5: Who are you? Establishing a specialism
Year 2
Unit 6: Collaboration and its' connections
Unit 7: Practice as a laboratory
Unit 8: You think what? How to research and review work
Unit 9: Where in the world? My specialism in context

Unit 10: Where in the world? Extending skills
Year 3
Unit 11: Finding your voice - portfolio design, crafting research skills and career planning

Unit 12: Show your work - independent practice
Work experience and opportunities
As a result of the college's London location and industry links students have the chance to undertake professional work placements during their studies.
Former students have worked for the Royal Opera House, The Globe, Hampton Court Palace, the Rose Theatre and Secret Cinema. They have also worked on the London Olympic ceremonies, the Warner Bros film 'The Huntsman' and Netflix productions 'Game of Thrones' and 'The Crown'. Others have worked with highly respected freelance designers and film directors.
Students will also have the opportunity to take part in the Erasmus scheme to study abroad for a term in the second year of their degree.
Learning and teaching methods
Assessments
Briefings
Collaboration
Exhibition preparation
Feedback - written and oral
Film screenings
Group and individual tutorials
Group work and crits
Guided readings
Independent study
Lectures
Online learning
Orientations and inductions
Peer review
Practical work
Presentations
Project work
Research - individual and group
Seminars
Study partners and groups
Visits and trips
Work placements
Workshops
Assessment methods
Essays
Induction sheets
Presentations
Project logbooks and work
Reflective journals
Research portfolios and tasks
Self-evaluation
Written assignments
Facilities
Jim Stephenson.

View images of and find out more about our theatre

Kristy Noble.

Find out more about our costume workshop

Kristy Noble.

Find out more about our digital media centre
Visiting Staff
Lea Anderson - Choreographer
Nicoline Bailey - Corset maker
Linda Cooley - Wig maker
Onyinye Egenti - Film Director / writer
Javier de Frutos - Choreographer
Jacqueline Gunn - Designer
Geraldine Pilgrim - Director
Clare Strickland - Milliner
Emily Stuart - Designer
Simon Vincezi - Artist
Holly Waddington - Designer
Home / EU applicants
Please note, this course has places available for UK and EU applicants only for 2018/19 entry. Applications for 2019/20 entry will open in Autumn 2018.
You must apply through UCAS, where you'll need the following information:
University code - U65
UCAS course code -

W453



The Universities and Colleges Admissions Service (UCAS) application deadline is 15 January.
Following your UCAS application to this course all home / EU applicants will be invited to choose a date for a selection event.
What is a selection event?
A selection event is similar to an interview. You will be expected to bring your portfolio, which will be reviewed by course teams. The event will also give you a chance to meet current students, take a tour of the college and see the facilities.
More details about your selection event will be emailed to you once you have chosen your selection event date.
Applicants will be seen by a team of Theatre and Screen tutors. Applicants may be offered a place on an alternative BA Theatre and Screen course at Wimbledon. This decision will be based on our assessment of an applicants' creative potential and interests.
International applicants
Applications for 2018/19 entry for this course are now closed for international applicants. Applications for 2019/20 entry will open in Autumn 2018.
There are 3 ways international students can apply to an undergraduate course at Wimbledon College of Arts:
Find out more information about applying through UCAS.
Interviews and portfolio reviews - international students can be interviewed in a number of different ways:
By phone or Skype
In your country, if your application was made though one of our

official representatives

At our international office based at Chelsea College of Arts
Study Abroad
Through the Study Abroad programme international students can apply to join an undergraduate course.
For information on how to apply visit the Study Abroad section.
Entry requirements
We select students based on the quality of their applications, looking primarily at their portfolio of work, personal statements and reference.
The standard minimum entry requirements for this course are:
A Level - 2 A levels grade C or above
or Pass at Foundation Diploma in Art and Design (Level 3 or 4)
or Pass, Pass, Pass at BTEC Extended Diploma
or Pass at UAL Extended Diploma
or Access to Higher Education Diploma
or Equivalent EU or non-EU qualifications. For example - International Baccalaureate Diploma pass achieved at 24 points or above
and 3 GCSE passes grade C or above
We will also consider other evidence of prior learning and experience via Accreditation of Prior (Experiential) Learning - AP(E)L and / or alternative qualifications assessed as offering the same level as the above requirements.
English language requirements
All classes are taught in English. If English isn't your first language you must provide evidence at enrolment of the following:
Portfolio advice
Portfolios should show the following:
A range of visual recording, such as drawing, life drawing and photography
Experimentation, which demonstrates idea generation and development
Visual work which uses form, colour, texture, structure and space
Design development showing how problems are solved
Any costume designs or costumes
An interest in contemporary and historical clothing
Include your sketchbooks and notebooks
At interview and portfolio review
We look for:
An interest, commitment and motivation for studying the subject
An ability to work imaginatively and creatively in 2D and 3D visual media, materials and processes
An ability to create and develop new ideas
A desire to learn and an ability to investigate and develop ideas independently
An ability to communicate your ideas visually, verbally and in writing
Potential for creative problem solving
An ability to self-direct and evaluate your own work
An ability to engage with the idea of character in the context of a dramatic situation
Visual awareness and an understanding of the creative process
Cultural and historical awareness of costume
Motivation for working in costume industry
A desire to succeed
Deferred entry
This course will give consideration to deferred entry application.
Fees and funding
Home / EU fee
£9,250 (2018/19 fees).
Tuition fees may increase in future years for new and continuing students, in line with an inflationary amount determined by government. Please visit our undergraduate tuition fees page for more information.
International fee
£19,350 (2018/19 fees).
Additional costs
In addition to tuition fees you are very likely to incur additional costs such as travel expenses and the cost of materials. Please read the information on our additional costs page.
Accommodation
Find out about the accommodation options available and how much they will cost.
Scholarships and awards
There are a number of scholarships and awards available to students on this course. Use our search tool to find out more information.
Careers and alumni
Our graduates have gone on to a range of careers within theatre, film and television. Some have found work as costume makers, designers, wardrobe supervisors and assistants, while others choose to carry on their studies at postgraduate level.
Alumni
Costume Design
Tasha Bailey, Olivia Cooper, Saffron Cullane, Charlotte Sewell, Sammie Sheldon - Costume Supervisors
Sean Barratt - Freelance milliner
Trisha Biggar - Costume Designer
Georgina Chapman - Director and designer, Marchesa. Company designs red carpet dresses
Matthew Chapman - Production Manager, Rainbow Productions Ltd. Company designed the 2012 Olympic mascots
Phoebe de Gaye - Costume Designer, 'Musketeers'
Amanda Hall - Workroom Manager, Royal Opera House
Kenny Ho - Fashion designer and stylist
Ellan Parry - Freelance Theatre Designer and previous winner of the Jocelyn Herbert Award and a Linbury Prize finalist
Martina Trottman - Works for Secret Cinema
Costume Interpretation
Linda Cooley - Wig specialist, Shepperton Wig Company
Lara Flecker and Keira Miller - Costume Mounting Specialists in the Textile Conservation Department of the V&A museum
Naomi Isaacs - Costume Interpreter. Commissions include the West End production of Wicked, Matthew Bournes's dance productions and Anna Boleyna for the Metropolitan Opera, New York
Caroline McCall - Costume Emmy Award Winner for Downton Abbey, 2011
Rachael Pashley - Freelance tailor
Jane Petrie - Costume Supervisor for Bel Ami, Costume Assistant on Elizabeth: The Golden Age and Costume Designer on the Suffragette
Mark Wallis - Co founder, Past Pleasures - costume for Historic Royal Palaces