CollegeWimbledon
Start dateOctober 2018
Course length1 year (full time)
MA Theatre Design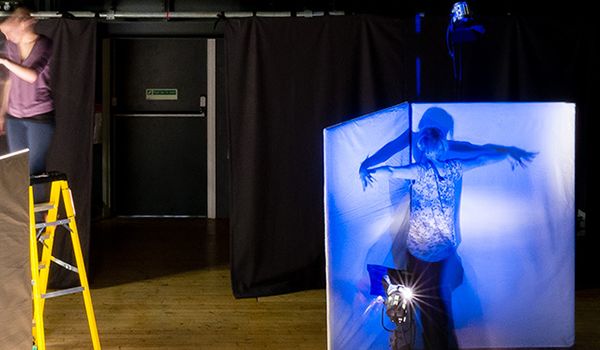 Applications for October 2018
This course is now only open for home / EU students.
MA Theatre Design at Wimbledon College of Arts is designed to support and further theatre design practice-based research. Students will develop the skills and attitude to become designers within the theatre and other performance based disciplines.
Course detail
Content: what students can expect
To look at historical, current and developing forms of practice in the fields of stage and costume design both practically (principally in the form of design projects) and theoretically (principally in the form of essays and a final dissertation) to form a distinctive view of your own position as a theatre designer
A structured series of classes introducing you to a basic understanding of the developing role of digital technology in the field of theatre design
To have visiting tutors and professional theatre makers help you look closely at your own practices
To be taught and encouraged to develop model making, technical and costume drawing skills as a way of presenting and communicating your ideas and designs
To collaborate with at least one other postgraduate student to practice and test your abilities to negotiate and communicate throughout the production process
You will be required to maintain a website to act as your on-going 'notebook' and research folio over the year which, on leaving the course, may eventually become the basis for your professional online CV
To have access to Wimbledon's shared workshops. View the Wimbledon facilities section
Structure
The course runs over a total of 45 weeks. Learning and teaching will take place through independent and studio-based practice, written work, group seminars and critiques.
Learning and teaching methods
Artist talks and lectures
Critical studies and writing
Design of a learning agreement
Documentation and dissemination of a project
Exhibition planning meetings with tutors and technical staff
Group discussions, crits, seminars and tutorials
Independent research
Individual academic tutorial advice and support
Lectures and seminars
Negotiation and development of a design proposal
Peer review and assessment
Planning for a formal presentation of a design proposal
Postgraduate forums
Practical workshops
Preparation and presentation of ideas at planning meetings
Project related professional work placement or collaboration
Seminars
Studio work
Study visits
Technical inductions and instruction
Workshops
Assessment methods
Presentation
Professional and personal development
Research portfolio
Facilities
Jim Stephenson.

View images of and find out more about our theatre

View images of and find out more about our 3D workshops

Kristy Noble.

View images of and find out more about our audio visual department
Visiting staff have included:
Jon Bausor - Theatre Designer
Professor Jane Collins - Theatre Director
William Dudley - Theatre Designer
Mauricio Elorriga - Theatre Designer
Sophie Jump - Theatre Designer
Aideen Malone - Lighting Designer
Anastasios Maragiannis - Digital Designer
David Neat - Model maker
Dick Straker - Digital Designer
How to apply
2018/19 entry
Applications for 2018/19 entry will open in Autumn 2017.
Application deadline
The home / EU deadline is midday, Tuesday 31 July 2018.
There is no deadline for international applications. Students should apply as early as possible.
Further information about the application process
You will need to enter the following information in the online application form:
Personal details
Current and/or previous education and qualification details
Employment history
Personal statement
CV (curriculum vitae)
Once you have submitted the form you will be emailed a link to upload your portfolio.
The course leader will review your work, may invite you to interview, and will then make a decision on your application.
Entry requirements
BA (Hons) degree in either art and design or drawing-related disciplines, including social and other sciences or engineering
Alternative qualifications and experience will also be taken into consideration
Personal statement
Portfolio of work
English language requirements
All classes are taught in English. If English isn't your first language you must provide evidence at enrolment of the following:
Personal statement
This should be about 500 words long and include:
Your reasons for choosing the course
Your current creative practice and how this will help with your future plans
If you do not have any formal academic qualifications please describe your relevant education and experience
Portfolio advice
Portfolios should show the following:
Evidence of an independently produced, sustained body of work
A coherent set of ideas, subjects or concerns that are relevant to Masters level
Critical reflection
A sense of direction for future work and study
An interest in fine art and other visual art forms
At interview and portfolio review
We look for:
Commitment and motivation for studying the subject at Masters level
Work that shows potential for further development
Demonstrate a holistic understanding of research
Ability to identify or speculate on the direction and development of practice and research
An awareness of contexts and frameworks for contemporary practice
Able to communicate clearly in order to present and discuss work and ideas with others
Able to demonstrate written skills
Successful applicants will be invited to attend an interview and should bring their portfolio.
Applicants may be offered a place on an alternative MA or Graduate Diploma course within Camberwell, Chelsea or Wimbledon. This decision will be based on our assessment of an applicants' creative potential and interests.
Fees and funding
Home / EU fee
£9,500 (Full time - 2017/2018 fees).
International fee
£19,350 (Full time - 2018/2019 fees).
Course fees may be paid in instalments.
Additional costs
In addition to tuition fees you are very likely to incur additional costs such as travel expenses and the cost of materials. Please read the information on our additional costs page.
Equivalent or Lower Qualification (ELQ) fee - Home / EU students whose chosen course is at a level equivalent to, or lower than, a qualification that they already hold, will be charged the fees shown above, plus an additional £1,100 ELQ fee. Students in receipt of Disabled Students' Allowances (DSAs) are exempt from ELQ fees and will pay the original fee, regardless of the highest qualification held.
Accommodation
Find out about the accommodation options available and how much they will cost.
Scholarships and awards
There are a number of scholarships and awards available to students on this course. Use our search tool to find out more information.
Careers and alumni
Our graduates develop and define their individual practices to progress within Theatre Design, which often leads them in different directions within the industry.
Recent graduates have continued either as professionals or become leading creative innovators within theatre, while others have continued their studies with research degrees.
MA Theatre Design alumni are fully equipped to enter various industry competitions and schemes, such as the Linbury Prize for Stage Design or the Royal Shakespeare Company's (RSC) trainee scheme, while their involvement with national theatre collections and archives gives them the chance to identify museum curation or other forms of exhibition production as a career.