CollegeCSM
Start dateStage 1: October / Stage 2: January
Course length10 weeks per stage
Textiles Portfolio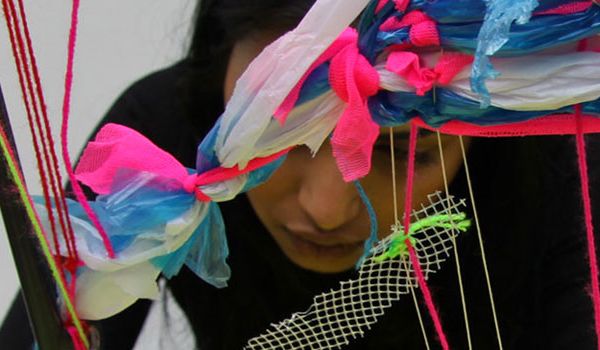 We are accepting applications for Stage 1 starting in October 2018.
Overview
The Textiles Portfolio has been carefully designed to enable students to develop their textiles practice and create a rich and successful portfolio. Whether you are hoping to go onto further study or professional practice, the course will help you achieve your ambitions. Underpinned by a philosophy of experimentation, visual research and conceptual thinking, the programme will allow you to explore and expand your textiles practice while building a portfolio of work.
You will be encouraged to explore diverse areas related to textiles, fashion, costume making, or surface and jewellery design. In addition, you will be given advice on portfolio presentation and best practice for your chosen pathway throughout the course while you engage with exciting projects that will enhance your skills.
It attracts students from all over the world and it is designed to meet the needs of international students.
Course structure
The course is taught on a progressive basis, giving you the opportunity to build your knowledge and develop your skills for up to six months. You are recommended to take both stages as students applying directly to stage 2 are only accepted in certain circumstances.
Stage 1: for students developing/revisiting/finalising their portfolios (open to all)
Stage 2: for students finalising/refining their portfolios (open to students who have attend stage 1 and/or for personal non-academic development or employment portfolio creation)
Stage 1 offers a broad overview of textile design and an opportunity to explore the fundamental elements and creative methods of textiles, while developing an individual approach to the subject. It includes an exciting mix of workshops and guest lectures delivered by CSM Textiles staff, alumni and professionals. Students are allowed to experiment with knit, print and weave, new materials and 3D design.
Stage 2 builds on the ideas and skills introduced during the previous stage; this stage is highly focused on allowing students to specialise their skills and finalise their portfolio. Final major projects will bring developing skills into fruition, enhancing portfolios with the depth and substance essential for applying to further study or employment.
Intense portfolio surgeries will prepare students for future applications to BA, MA and professional practice. Invaluable specialist advice will be provided for professionals looking to establish themselves in their chosen field.
Projects and workshops are designed to develop students existing skills while nurturing individual creative styles. Students can expect to work through a diverse range of briefs, broadening the range of work in their portfolios.
Interview practice for future study and employment will help to shape students agenda. Students applying to a BA or MA at Central Saint Martins will have a portfolio review with the relevant BA or MA course director.
Curriculum / learning and teaching
Subjects covered include
Textile design, print, weave, knit, research
How to contextualise work to the appropriate standard
Drawing and mark making
Media techniques, colour, layout and presentation
Hand knit, crochet, embroidery, off loom weave and machine knit
Printmaking (screen-print and digital)
Collage and visualization
Digital design (Photoshop and Illustrator)
Photography, personal projects and portfolio surgery
Aims and learning outcomes include
To provide a broad diagnostic experience in textiles design
To encourage students to explore their potential within a wide range of art and design disciplines
To expand student's design skills, personal practice and challenge their design ideas
To encourage experimentation, research and work at a fast pace
To enable students to discover and develop their individual style
To inspire students to develop confidence in their practice
To deliver high quality teaching to small class sizes, taught by staff from a variety of CSM subject areas
Teaching methods include workshops, lectures, demonstrations, external study visits and individual tuition. Students are expected to specialise as the course progresses, culminating in a final project in their chosen area. This will provide a focus for their portfolio to support their application to further study or future employment.
Upon the course students can choose to specialise in one of the following subject areas
Costume for Film or Theatre
Fashion Accessories
Fashion Knit
Fashion Print
Fine Art
Jewellery
Surface Design
Textiles
Students who have completed Textiles Portfolio have successfully progressed to the BA Textile Design course at Central Saint Martins and elsewhere.
In addition to benefitting professional practitioners and students with applications to future employment; the Textile Portfolio course can also help prepare students for application to the following University of the Arts London programmers, and elsewhere:
BA (Hons) Costume Design
BA (Hons) Fashion Knit
BA (Hons) Fashion Print
BA (Hons) Fine Art
BA (Hons) Jewellery
BA (Hons) Performance Design and Practice
BA (Hons) Surface Design
BA (Hons) Textile Design
MA Design
MA Jewellery
MA Material Futures
MA Textile Design
Staff
Laura Baker (course leader) is a Central Saint Martins short course and portfolio tutor, as well as being a 2D Specialist Print Technician. Laura's professional practice lies in bespoke shirt design, with a focus on injecting the unconventional into the usually conservative world of formal shirting.
Berni Yates (course leader) has over 30 years' experience in the Fashion and Textiles sector - she has worked for Central Saint Martins for the past 20 years - her specialist area is Fashion Knitwear and she has taught on BA Textiles throughout her career. Berni has a wealth of knowledge of the fashion and textiles industry and continues to design and manufacture her own label of bespoke hand knit garments.
The course is also taught by visiting tutors, alumni and UAL staff.
How to apply
To apply for this course please click on the "Apply" button located at the top of this page, you will be redirect to a course application form which you will need to complete.
We will only review completed applications, which must include:
A completed application form
A short statement (no more the 350 words)
An up-to-date CV
15-20 high resolution images of your work
All international students from outside the European Union will need a Short-term Study Visa (STS) in order to attend one of our portfolio courses. To find out more please visit UAL's Immigration guidance for short course students web page.
Fees and funding
Home/EU fee
£2,995 per stage
International fee
£2,995 per stage
Additional costs
In addition to tuition fees you are very likely to incur additional costs such as travel expenses and the cost of materials, for more details please visit the UAL's Additional Costs webpage.
Accommodation
Please visit the Accommodation webpage to see the options available to you and to find out how much they will cost.