CollegeCamberwell
Start dateNot applicable
Course length2 years (full time)
MA Conservation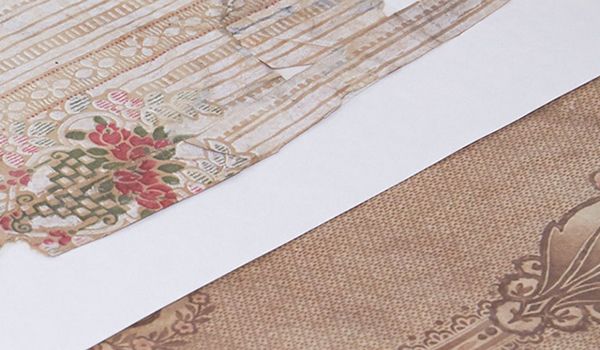 MA Conservation at Camberwell College of Arts is a two year course with over 40 years experience in teaching specialist skills and knowledge, and prepares our students for work in specific fields of the conservation world.
Our MA Conservation students benefit from the college's strong connections to London's heritage community, which includes The British Library, Kew Gardens, London Museum, London Metropolitan Archives, The National Maritime Museum, Tate, the V&A Museum, The Wellcome Trust and many more.
The course offers two pathways that our students choose to specialise in; Art on Paper and Books and Archival Materials.
Course detail
Content: what students can expect
A course that consists of practical studio work where students are introduced to conservation ideas and techniques through taught classes
To learn about the science of materials and how they react under different conditions, providing students with an understanding of conservation treatments and a background to preservation management
To learn about visual examination and condition documentation, mechanical surface cleaning, humidification and washing, de-acidification and resizing
Our Art on Paper pathway to include specialist classes on fixatives and consolidants, pressure sensitive tape removal, sensitive media, parchment, iron gall inks, and an introduction to photographic conservation
Our Books and Archival Materials pathway to cover the broad international and historical spectrum of bookbinding and book structures with an emphasis put on acquiring an understanding of bookbinding history
During the second year both pathways focus on detailed conservation techniques, and students finish the course by working on a project with one of the many cultural institutions within London
Structure
The first part of the course is a shared introductory unit, which brings together the students from across the two pathways. Each student will then focus on one of the individual pathways.
Art on Paper
This pathway focuses on conservation and preservation management of images executed on paper covering a wide range of materials including prints, drawings and watercolours with an emphasis on both conservation practice and theory.
Books and Archival Materials
This pathway focuses on learning structures of different historical styles of books, covering the broad international and historical spectrum of bookbinding and book structures.
Learning and teaching methods
Classes in laboratory techniques
Essay supervision
Independent learning and practice
Inductions
Laboratory and studio practice
Lectures and seminars
Specialist classes in paper conservation
Supervised execution of conservation project
Tutorials
Assessment methods
Conservation journal, project proposal and report
Essays
Oral presentations
Participation in seminars
Practical work
Surveys
Symposium presentation and paper
Technical documentation
Timed examinations
Staff
Jocelyn Cuming - Course Leader
Abigail Bainbridge
Vincent Daniels
Craig Horsfall
Eleni Katsiani
How to apply
All applicants can apply for this course using our online application form.
Further information about the application process
You will need to enter the following information in the online application form:
Personal details
Current and/or previous education and qualification details
Employment history
CV (curriculum vitae)
Once you have submitted the form you will receive a confirmation email.
You will be emailed a link to our online application tool, where you should submit the extra information we require for the selection process:
Personal statement
Reference
Transcript (translated into English if you are an international students)
The course leader will review your work, may invite you to interview, and will then make a decision on your application.
Please note:
We will send you emails throughout the application process that will contain important information about your application. Please check your inbox.
We will contact you separately to ask for copies of certain documents. For example, your English language certificate and copies of any previous UK study visas.
Entry requirements
BA (Hons) degree (2:1 or above) or equivalent academic qualification
Professional qualifications recognised as equivalent to a BA (Hons) degree
Professional experience or experiential learning, the outcome of which can be demonstrated to be equivalent to the qualifications required
A combination of qualifications and experiential learning, which can be demonstrated to be equivalent to the qualifications required
Applicants should ideally have experience of working or volunteering in a conservation setting
Personal statement
A reference
A transcript (translated into English if you are an international student)
If English isn't your first language
All classes are taught in English. If English isn't your first language you must provide evidence at enrolment of the following:
Personal statement
This should be no more than 500 words, outlining your previous experience and reasons for wanting to study MA Conservation.
Reference guidance
One reference is required
Your referee should be able to comment on your ability to succeed on the course
Applicants must upload their reference, personal statement and transcript using UAL's online portfolio tool
Portfolio advice
If you are invited for interview you should bring your portfolio.
Portfolios should demonstrate the following:
Intricate handcraft skills or work related to conservation
Evidence of good manual dexterity and a high level of aesthetic understanding of the media you are presenting
An idea of the above skills. This can include drawing, painting, photography, ceramics, or other craft / fine art skills
What we look for
A strong interest in conservation and preferably some conservation related experience
A good level of manual dexterity as could be demonstrated by art and craft skills or industry experience
An ability to self-direct and evaluate your own work
An ability to communicate and discuss ideas verbally and in writing
An ability to gather, research and use information to support your studies
A high level of ambition and motivation to study on the course
Deferred entry
This course will give consideration to deferred entry application.
Fees and funding
Home / EU fee
£6,590 per year (2017/18 fees).
International fee
£14,420 per year (2017/18 fees).
Course fees may be paid in instalments.
Additional costs
In addition to tuition fees you are very likely to incur additional costs such as travel expenses and the cost of materials. Please read the information on our additional costs page.
Equivalent or Lower Qualification (ELQ) fee - Home / EU students whose chosen course is at a level equivalent to, or lower than, a qualification that they already hold, will be charged the fees shown above, plus an additional £1,100 ELQ fee. Students in receipt of Disabled Students' Allowances (DSAs) are exempt from ELQ fees and will pay the original fee, regardless of the highest qualification held.
Accommodation
Find out about the accommodation options available and how much they will cost.
Scholarships and awards
There are a number of scholarships and awards available to students on this course. Use our search tool to find out more information.
Careers and alumni
Our MA Conservation graduates progress into a range of career paths within the heritage industry including museum education, curating, exhibition design, tourism, museum studies as well as taking on roles as Conservation professionals.
Alumni
Rosie-Faye Fletcher - Paper conservator at the Maritime Museum, London
Carol Peacock - Conservator of Chinese paintings at the British Museum, London